Be A Saint
 Feeling Lucky?  Submit your art, win $1000.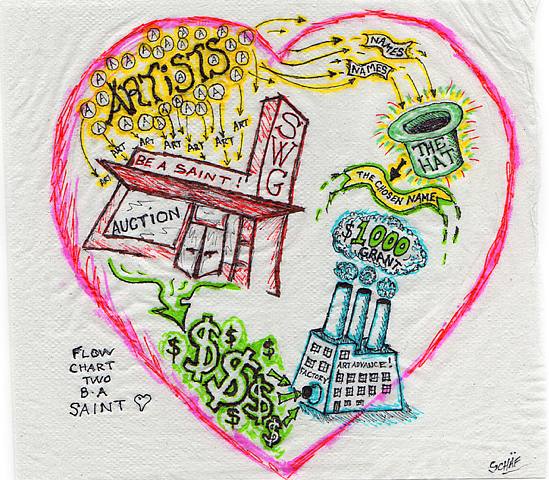 Join us for our annual Be A Saint, Valentine's Day Art Auction and Gala.  Friday, February 14, 2014 6-9pm. This is not your typical  art auction or juried show. 100 artists will be chosen participate in the benefit exhibition and be entered in the ArtAdvance Raffle.  Winners will be chosen at random by lottery from all selected artists,  one grand prize winner will receive $1000.  The number of $500 winners will be announced at the event. To date, Sylvia White Gallery has awarded over $10,000 to local artists. All art will be available for sale at a starting bid of one third of the retail price. To enter, please email ONE image to info@artadvice.com. THERE IS NO FEE TO ENTER.  Please put Be A Saint in the subject line.  Entries must be received by January 15, 5pm. Winners must be present. Buy your ticket early,  last year we SOLD OUT.

Tickets are $25 each until February 1, and will include dinner, live music, drinks, free raffle prizes and admission to the silent art auction. Beginning February 1, tickets are $35 and tickets at the door (if available) $45.  Bidding will close promptly at 8pm. ArtAdvance winners will be drawn at 9pm
CLICK HERE to see a short time lapse from our first Be A Saint, 2010.

CLICK HERE to see what you missed in 2011
CLICK HERE to see what you missed in 2013
Important information for Collectors
This is your chance to support the arts by putting money directly in the hands of those who deserve it the most….the artists.  You will also have the opportunity to acquire museum quality art at bargain prices; do something for Valentine's Day that is sure to be fun and support our wonderful artists.   The gallery will take NO commission on sales for this event. 100% of the money raised goes directly to the artists.  This is a win-win situation for artists and collectors.  Please invite all your friends to BE A SAINT and buy your tickets EARLY to this exceptional and fun event.